How to Use WhatsApp Business in Retail
WhatsApp is the most used messaging app globally, with in excess of 2 billion monthly active users (MAUs). The word "active" is almost an understatement because around 60% of users are Daily Active Users. In fact, more than
65 million
Whatsapp messages are sent per day. 
Source: Social Media Today
This makes WhatsApp the key messaging platform in many countries around the world (notable exceptions include the US, China and Japan).
Source: Social Media Today
WhatsApp Business App vs WhatsApp Business API
Before we talk about setting up WhatsApp for business for your stores, it's important to note that you can choose to work with WhatsApp Business in three different ways. The method you choose will depend primarily on the size of your company in terms of the volume of customer interactions and your sophistication in terms of in-house development capabilities.
The WhatsApp Business App
The
WhatsApp Business App
is designed to cater to small businesses and is the perfect solution to respond to messages quickly and efficiently. This blog post is intended for retail chains rather than independent stores so if you want more information about the WhatsApp Business app, please check out
this page
.
Partnering with WhatsApp Business Approved Business Solution Providers
Businesses that are a little more complicated and need extra functionality, such as having multiple users answering customer queries can use WhatsApp by utilising the services of an approved Business Solution Provider (such as
ServiceDock
). There are dozens of potential solution providers to choose from with each offering slightly different benefits. For example, our focus in ServiceDock is on serving multi-unit businesses such as retailers. These businesses need to facilitate contact to multiple locations and that requires a slightly different set up than call centre where only one WhatsApp number is used but my hundreds of agents.
Working Directly with the WhatsApp API
Finally, if you're a very large organisation with an in-house tech team and expect to see huge volumes of customer interactions taking place on WhatsApp it might make sense to work directly with the WhatsApp API. The first step on the journey to getting approval is to make an application through
this form
. Be warned; WhatsApp is only willing to engage with very large businesses at this level (i.e. an
 enterprise that would expect to send 500,000 messages or more a month)
. We are not going to cover this process but much of the rest of this article will still be relevant in terms of how to use WhatsApp in practice.
How to get started with WhatsApp Business
Let's assume you have access to the WhatsApp Business API either directly or through a Business Solution Provider. So what are the next steps?
Creating a WhatsApp API Business Account
Before you can create an API account you'll need to request access by filling out this
form
and hoping that WhatsApp responds. This is because WhatsApp's API is still in "limited public preview" mode so they are still figuring things out and only selected business can use it. That means you shouldn't hold your breath waiting for a reply or take offence if you don't hear from them because you're unlikely to be granted access unless you're a large enterprise that would expect to send 500,000 messages or more a month.
However, should you get a positive response from WhatsApp, you'll need to create an account. You can do this within your Facebook Business Manager account (WhatsApp is owned by Facebook) by following the instructions
here
. 
Screenshot: WhatsApp Business Account Creation
Register a landline number
As a business, you are most likely to prefer registering your WhatsApp Business account with a landline number rather than a mobile number. WhatsApp Business enables you to do so and provides you with the option of receiving a call instead of an SMS to verify your number.
Next, you'll need to let users know you are using the Business Profile. WhatsApp Business account owners can update their profile info to include a picture, business hours, website, description of the business and office/store address.
Verifying and Confirming your Business
When a person clicks on Business Account they will see a prompt that states, "WhatsApp hasn't verified this is a business. WhatsApp states that notable brands will be verified by WhatsApp. There is no current request for verification currently available as of February 2020. WhatsApp will determine whether a business should be verified based on a number of factors such as whether the brand is notable.
Verified
The green check confirms that the account is owned by an authentic brand.
Confirmed
The account's phone number matches the business's phone number (grey checkmark badge).
Choose a Partner
Using Business API requires partnering with a messaging service provider. You'll want to consider which features the partner supports, as well as its pricing model. ServiceDock provides a partnership service, and you can learn more
here
.
How to Benefit from the WhatsApp Business API
WhatsApp Business API provides metrics that help you understand the effectiveness of your messaging. The include details such as open rates, how many messages you've sent and more.
Companies can build a chatbox to streamline the process and provide immediate responses and answers to FAQs.
There are numerous ways to benefit
from using the app to provide excellent customer service, including onboarding contacts, segmenting contacts and responding to contacts.
Analytics
WhatsApp Business account owners can analyse their interaction with their customers within the app. Available data includes:
Messages sent

Messages delivered

Messages read

Messages received
Customer Segmentation
Businesses can categorise their customers to better serve them. They can segment by:
Prospects

New orders

Pending payments

Paid

Order complete
You can also create your own labels.
Source: WABetaInf
Auto responses
Your business can create custom away messages which are sent when your employees are busy and unable to respond to new messages. You can also send an automated greeting to new customers. But make sure you personally respond to queries in less than 24 hours (ideally less than 3)!
API Technical setup (for developers)
There are some great
resources
on the web for optimising your customer engagement. These guides explain the more technical side of the WhatsApp Business API setup, such as integration with your current systems. Some of the areas covered in depth include:
How customers contact a business
WhatsApp API allows you to set up an opt in service for customers, so they'll have to consent before you can send them messages. Alternatively, they can message you first.
Screenshot: Contacting a business
International brands that are already Using WhatsApp Business API
KLM was one of the first big brands to go live with Facebook Messenger as a customer service channel and they followed suit with WhatsApp in 2017. In a blog post they revealed that over 80% of their customer service is taking place either on Messenger or WhatsApp. Some of the services provided via the app are check-in confirmations, boarding passes, booking confirmations and flight status updates. The service is growing, and there are numerous examples of companies using WhatsApp API successfully.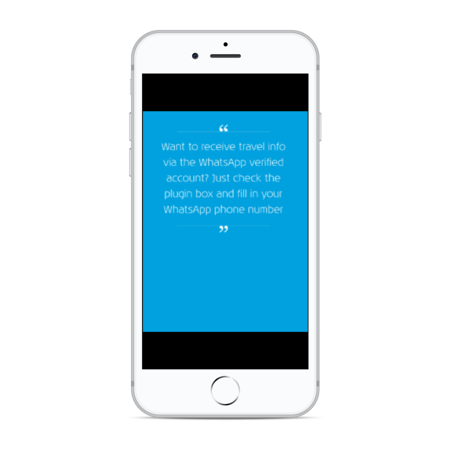 Image: KLM WhatsApp Business
Examples of businesses using WhatsApp:
Wish

lets customers track their orders via messaging.
Let's get started
WhatsApp business API is rapidly becoming the customer service norm for retail businesses. Contact us to get started working with a partner!